NBL1 Falcons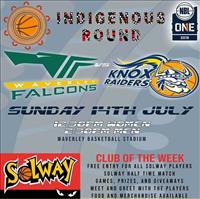 Indigenous Round
11/07/2019
This Sunday, June 14th is the final home double-header of the inaugural NBL1 season for the Waverley Falcons. The Falcons will be taking on the Knox Raiders, Women at 12:30pm and Men at 2:30pm.
The NBL1 league is celebrating Indigenous Round this weekend to respect the traditional owners of the land on which we play the great game of basketball.
With the Falcons women and men still in the frame for finals spots, and having played on the road the night before in Ballarat, the Falcons will be looking to receieve plenty of support to help get them over the line and notch a couple of key wins.
The Solway Basketball Club will also be celebrating their club day at the double-header, and will no doubt be right into the atmosphere with plenty of exciting activities thrown in.
It may be, although we hope not, out last chance to catch the Falcons on their home floor in this historic first NBL1 season. A great chance to catch such high quality, exciting basketball at the Falcon Nest.