Domestic Competitions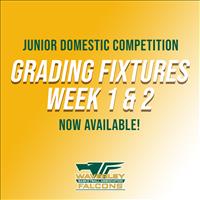 Junior Domestic Grading Week 1 & 2 Out Now
17/02/2021
The first two weeks of grading is now available. Click here to see the fixtures: http://waverleybasketball.com/fixtures.aspx
We will review at the end of the first two weeks and regrade accordingly
Important information
Today's Government announcement return community sport to COVIDSAFE and, therefore, the same rules and conditions apply as per the practice matches.
However, there is the potential for Basketball Victoria to change community sport to a more restricted 'Orange Level' at any time throughout the year. If this occurs, WBA will revert to the following restrictions;
The game times change from 18-minute halves to 15-minutes halves with one-minute half-time (this will allow for the 20-minute break between games for cleaning)
No basketballs allowed inside for competitions
One scorer only from the home team at the score bench
One spectator per player
Entry/Exit procedures must be adhered to
Arrival/Departure procedure rules apply
No singlet hire available
Vending Machine and ATM closed
Canteen will operate as per government regulations, and water fountains will remain closed
QR check-ins for all scorers/spectators & new fill-ins
High fives and shaking hands banned
Please click here for BVs update: https://basketballvictoria.com.au/covid-19/return-to-sport-updates-for-associations-and-clubs/
ClubExpress is open
For those who may not be aware ClubExpress is now open could you please check that your club information is correct and up to date especially coaches and team managers information.
If you require any further information, please do not hesitate to contact us
Regards,
WBA