NBL1 Falcons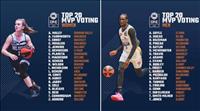 Falcons nominated for NBL1 awards
14/08/2019
Although the Falcons inaugral NBL1 campaign may have come to an end, however the Falcons have had one last piece of good news before we close the curtains on an exciting season.
Four Falcons players have been nominated for MVP awards for the NBL1 league.
Carly Ernst and Tegan Cunningham have been nominated for the women's MVP awards, while Dyaln Travis and Deondre McWhorter have been nominated for the men's MVP award.
The nominations come as recognition of the fine seasons these leading Falcons had as the program broke new ground this season, and we look forward to seeing how they fare at the awards night.