Junior Falcons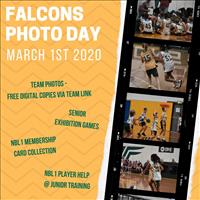 Falcons Photo Day
25/02/2020
SAY CHEESE!
Junior Falcons Photo Day will be on again this Sunday the 1st of March.
All junior Falcons will be required to have their team and individual photos taken in full uniform. Photo times will be allocated as per training schedules.
You will also have the oppourtunity to collect your 2020 NBL1 Membership cards. As well as watching the senior teams in exhibition matches.
See you all there,
WBA