Domestic Competitions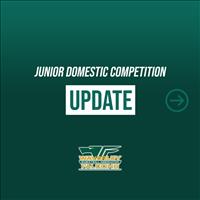 Junior Domestic Winter 2020 Update
06/07/2020
JUNIOR DOMESTIC COMPETITION UPDATE
Updated July 6th 2020.
A return to junior domestic basketball is near! We are working towards the following return dates:
- Tuesday July 14th
- Saturday July 18th
- Sunday July 19th
WBA are excited to be creating junior fixtures for the upcoming winter 2020 season. Management and staff have been busy behind the scenes working on various return models, and making the venue as safe as possible to comply with Covid-19 restrictions and the Basketball Victoria Return to Sport Guidelines.
The Winter 2020 Playing Dates can be found here.
The Winter 2020 season will see some big changes for the Junior Domestic competition. Please carefully read the Important Competition Information for Winter 2020 document.
During this first stage of return for community sport, please be aware of the new processes for arriving and departing your games, and the new entry & exit procedures. Families please be aware, a maximum of one spectator only is permitted to enter with the player. All visitors will also be expected to sign in for contact tracing purposes, and more information will be available next week.
All of the above documents and extra information can be found under the Junior Domesitc tab.
BV published their latest information on Wednesday 25th June. We will run the junior competition under the 'Orange 50' return policy (max 50 people per court) from the BV Return to Sport Guidelines.
Biosecurity Officers will be ensuring all new rules and regulations are followed, cleaning processes are met, and will assist visitors move safely around the venue.
Unfortunately, WBA has not been given permission to use external gymnasiums and courts, in addition to extending each game slot to 60 minutes as per the BV rules above. Therefore, mathematically based on team entries from our ten local junior clubs, a consequence of this additional time results in the Sunday and Tuesday programs starting earlier and finishing later. Furthermore, the number of teams entered for Saturday competition means WBA has to cater for 182 matches. Unfortunately, WBA only has 95 time slots available to use. If one or two additional courts become available during the day at alternative venues, WBA could only include another dozen or so games, and therefore drastic measures were required to create a winter season.
In consultation with all junior clubs, WBA have created a program that sees all U/8's, U/10's and U/12's playing on alternative weekends, while the U/14's, U/16's and U/18's will play weekly. This allows all teams to train every week with their respective clubs, but will carefully introduce high impact competitive competition back to the younger kids in a safe and considerate manner fortnightly. Coaches must also be mindful that players bodies are most likely not at the same fitness level as they were during the summer season, and strongly encourage all teams to adequately warm up and cool down as best as possible to avoid injuries.
WBA must stress the advice and conditions outlined above and on our website are subject to further changes based on State Government advice over the coming days, weeks and throughout the season.
WBA would like to thank you all for your patience and understanding during this period away. We are excited to see everyone back at the stadium soon!