Domestic Competitions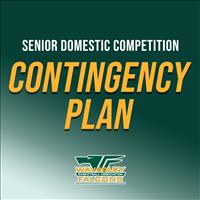 Senior Domestic Competition Contingency Plan
15/02/2021
WBA COMPETITION CONTINGENCY PLANS
Leading into the Senior 2021 Autumn Season, WBA advertised and documented numerous new policies and procedures including contingency plans for restricted levels of competition.
Carefully adhering to the Basketball Victoria's Return to Sport Guidelines, WBA competitions have so far been operating at a 'Green CovidSafe level.' However, there is the potential for Basketball Victoria to change community sport to a more restricted 'Orange Level' at any time throughout the year. If this occurs, WBA are well prepared and game times will be updated accordingly to include a 20-minute break between every match.
At a potential Orange Level all new procedures will be strictly enforced, including:
No basketballs allowed inside for competitions
One scorer only from the home team at the score bench
Potentially no spectators allowed (capacity limits will be advertised if BV level changes)
Entry/Exit procedures must be adhered to
Arrival/Departure procedure will be enforced
No singlet hire available.
Vending Machine and ATM closed
Canteen closed and water fountains closed
QR check ins for all scorers and spectators
High fives and shaking hands banned
WBA cannot yet confirm or advertise if this restricted level will eventuate. All competitions will be prepared for resumption under the 'Green CovidSafe Level' as we have been for many weeks.
Thank you for your understanding and patience, and please continue to check news items and social pages for updates and information.
Regards,
WBA