Junior Falcons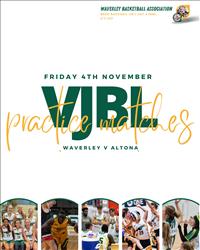 Friday Night - Junior Falcons v Altona
02/11/2022
Our VJBL teams have more interclub practice matches this Friday as we take on Altona.
Most teams will be playing at HOME Waverley Basketball Stadium.
With a few teams playing AWAY at Altona Sports Centre.
Team sheets fees will be $125 per team at both venues (paid in a lump sum). Team sheets can be paid for at the canteen at Waverley.
Let's go Falcons!!!
#VJBL23
#WeAreWaverley